They say that jewelry acts like the ambiance and service when eating a great meal at a restaurant — they are there to upgrade the experience.
When it comes to men's jewelry, the best ones won't help a man refine his appearance if he doesn't know how to wear them. It takes proper use of jewelry to transform a decently dressed fellow to a put-together gentleman.
In the old days, men's jewelry used to represent religious beliefs, social positions or cultural passions. As the years progressed, men are seen wearing bracelets and necklaces on the runway and in magazines. But nowadays, real men don't shy away from decorating their bodies with jewelry like beaded bracelets, sterling silver necklaces, and more.
Beads shouldn't look overdone. Beads can never fail to incorporate texture to a bracelet. If you wear one, make it a point not to overdo it. When you use beads as accents, they should remain understated yet tasteful. Also, use vibrant tones minimally. Earth hues are more favorable among men.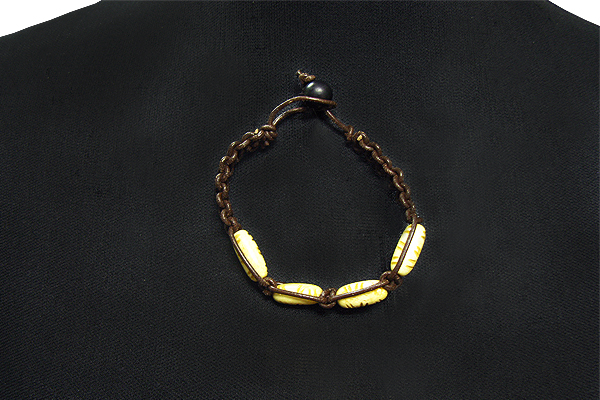 https://www.beadsandpieces.com/design-combo-7/
Rustic and natural materials. Most men always like a more rustic, natural look. Majority of them like leather strapping and dark wood beads since these materials incorporate a more rugged look. They can be worn daily with a pair of jeans or even a nice suit. Also, the great thing about leather is it can be worn for a long time as it is durable.
Minimal use of metal. When it comes to metal, minimal is key. Leather and snakeskin cords are best paired with geometric or tribal metal sliders in silver, copper, and brass. More and more younger men actually prefer this style.
And lastly….
Do take note that when going to a job interview, don't wear any major bling like chains. Make sure to choose the appropriate jewelry according to the occasion. You don't want to distract your look with the wrong jewelry choices. Remember, first impression is everything when you're looking for a job or when you're attending a particular event.
Gone are the days when men tend to cringe at the idea of wearing jewelry. They no longer steer clear of accessories that help them look their very best.
So, if you have male friends who love wearing jewelry, let the tips above help them wear jewelry the appropriate way.