When it comes to jewelry, we often live for whimsical and bright pieces that catch the eye.
But at the moment, natural beads have won the hearts of many beading enthusiasts. There's something about natural beads that give off an understated elegance to a jewelry design.
In this article, we've highlighted two natural beads with design ideas that will hopefully spark your creativity for your future jewelry projects.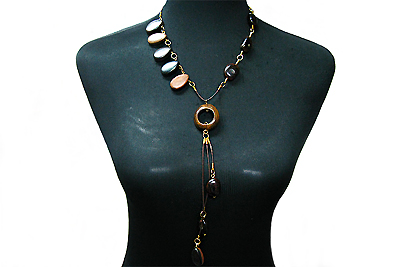 Tiger Ebony is a dense, solid, and dark bead. It can be brown, black, beige or a combination of two tones with a polished finish. Because of the color, it can be a great addition to your natural jewelry collection. Found in Kamagong or Mabolo fruit trees from the Philippines, it is sometimes called Ironwood because of its hard texture. Tiger Ebony is historically believed to ward off negative energy.
When it comes to creating your jewelry designs, take note that the rich brown tones of  tiger ebony beads shouldn't overwhelm the design. The beads should act as a way to draw attention to the brighter brown accents and should flatter the neckline.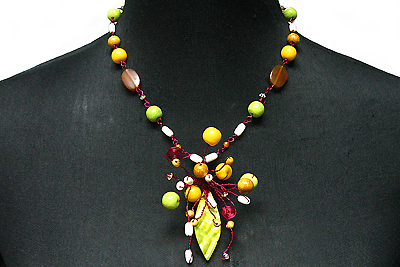 Horn beads come from the Philippines from the horns of "carabaos" which is a member of the water buffalo specie. These animals plow rice and corn fields for small farms. Raised for domestic purposes, the horns are not only used to make beads and components for fashion jewelry, but also for distinctive carvings and other pieces of art.
When it comes to color, black is the most dominant one. Greyish horn color comes in next. As for golden horns, beads are soaked with hydrogen peroxide for a long period of time. Too much hydrogen peroxide will cause the horn to crack so soaking time needs to be tracked. The size of the horn and the length of time the beads are soaked with the mixture will affect the tones which vary from light golden hue to dark brown.  Over the years, many have considered the golden horn as an ideal alternative for expensive amber.
Moving on to burnt horns, a blow torch is utilized to burn the beads. They are then poured back into the beading machine after burning to buffer and smoothen. The horns are sorted to make sure that male horns are used as they are sturdier and smoother. Since horn has a natural luster when polished, it is a versatile component used to work with a variety of materials in beading.
Now that you already know a bit about tiger ebony and horn beads, it's time to take your beading kit and start with new beading projects. The design ideas above are just a few ways to work on your creations but the options are limitless!
What are the ways you style your tiger ebony and horn beads? Let us know in the comments below!