Although the main uses of clasps are to fasten different jewelry and to hold the jewelry components together, it can still affect the overall look and design of jewelry. Also, not all clasps are the same; there are different types with various styles. The kind of jewelry you're making will also dictate which type of clasp should be used to optimize the jewelry design. Below are the most common clasps used for jewelry.
1. Barrel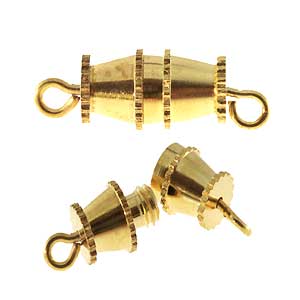 It's recommended to use barrel clasps when creating necklaces since its barrel-design can tightly secure the end points of the jewelry. The colors of barrel clasps are usually gold and silver but you can find other finishes around different shops.
2. Hook and Eye
This clasp is usually used on either bracelets or necklaces. There are different styles of hook and eye clasp so keep an eye on the design of the clasp. For example: hooks that are designed like a fish hook is best used on heavy necklaces since it can support the weight of the necklace.
3. Lobster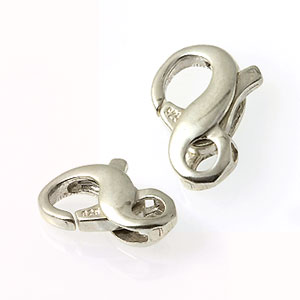 The lobster clasp is one of the traditional types of clasp since it's easy to use and can easily blend with many types of jewelry due to its flexible design. It's basically a fastener that is enclosed by a spring. Lobster clasps are usually used for bracelets, key chains, and necklaces.
4. Snap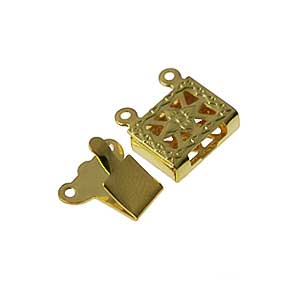 Snap clasps are frequently used on bracelets. This is not recommended for necklaces since it can be a hassle to wear. You see, you need both hands to remove fasten/unfasten a snap clasp. Plus, snap clasp can easily blend with the jewelry due to its design making it more difficult to use.
5. Spring Ring
Spring rings are another common type of clasp that is used on almost all jewelry. However, it's more suitable for ankles and necklaces.
6. Toggle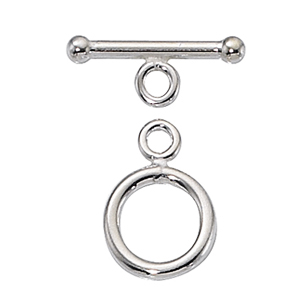 Both stylish and durable, the toggle clasps has gained popularity among jewelry designers. This clasp is very effective in carrying heavy jewelry, especially necklace accessories.