Excited to create your next piece of jewelry? Have you decided what colors, style and size you'll incorporate in your future jewelry projects?
When creating a piece of jewelry, one thing that's often disregarded but is very essential is the type of clasp that will best fit your creation. Now there are plenty of clasps to choose from. Some clasps are a bit difficult to open and close and a few others are more secure.
To get you started, here are the most common types of jewelry clasps: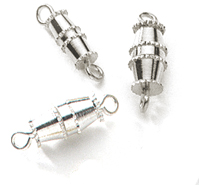 Barrel Clasp.  This is a versatile clasp as it comes in a wide range of finishes and shapes. It is made of two metal pieces that make use of a screw to close. Barrel clasps are ideal for finishing the ends of necklaces.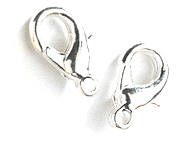 Lobster Claw Clasp.  This type of clasp is spring loaded and self-closing and is great for creating everyday jewelry. Lobster claw clasps come in a range of sizes and styles but the most notable one is a swivel style that lets the clasp rotate 360 degrees.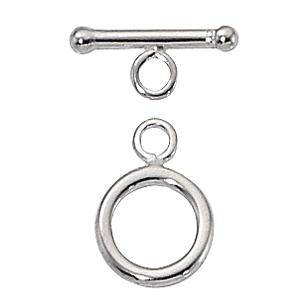 Toggle Clasp. If you want to add a more refined look to your jewelry, use a toggle clasp. This clasp has two different pieces: a T shape on one end and an open shape. Toggle clasps are most often used on heavy jewelry and come in a range of sizes. There are also toggle clasps with embellishments on them.
Magnetic Clasp. You can find magnetic clasps in a variety of styles, sizes and shapes. There are some with rhinestones on them. This type of clasp has magnets which are used to snap together to secure the necklace in place.
Button Toggle Clasp.  Button toggle clasps come with a set of matched buttons and a loop of cord. The leather cord is used to loop around the other button to close the clasp.
Spring Ring Clasp. From single-strand to intricate multi-strand designs, there's a wide variety of spring ring clasps to choose from. This type of clasp is used with a chain tab to make a complete clasp.
Slide Lock Necklace Clasp. Slide lock clasps come in a plenty of styles. One of which is the bar style multi-strand clasps that can hold plenty of strands of chain, beading wire, thread, and the like.
Screw Clasp. This type of clasp has a threaded screw closure that looks like a bead which closely resembles a barrel clasp. Screw clasps come in a range of sizes.
Crimping Clasp. These are clasps that are crimped on ends of beading wires or cords. Lobster clasps, magnetic clasps and hook-and-eye clasps are considered crimping clasps.
Snap and Button Necklace Clasp. This clasp won't tangle on your hair or clothes. It folds and locks with a snap and has a hinged clasp.
Jewelry clasps are not only functional components that are used to connect two ends of a piece of jewelry but can also be considered as an important part of your creation's overall design. Now that you have an idea about different jewelry clasps, you can come up with new ways to enhance your piece with different design elements.