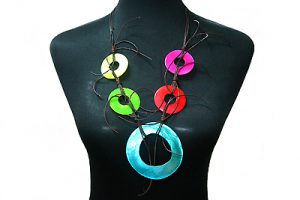 STEP 1:
Prepare six 10-inch tying cords, four 20-inch binding cords, two 25-inch neckline leather cord (BCLG15BR-50), five shell pendants and g/s hypo cement (TLGSHYP001).
STEP 2:
Hold the turquoise shell pendant (SP4080C-TQ) and neon green pendant (SP2046C-NG) on one hand.
STEP 3:
With your other hand, take one 20-inch binding cord. Both ends of the cord have different functions. Cord A is stationary and Cord B is the working end.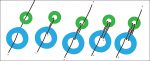 STEP 4:
Wrap the two pendants together twice.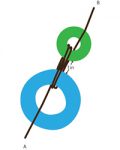 STEP 5:
Pull the two pendants gently and leave a 1-inch distance.
STEP 6:
Hold the binding cord with your thumb.