N-0021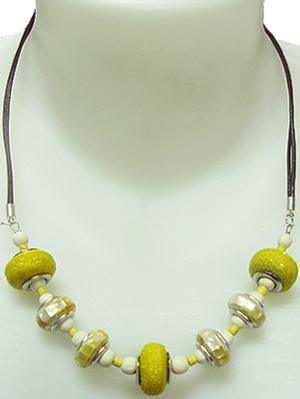 STEP 1:
Cut a 10in. beadalon wire. Find its center. On one end of the wire, string a hambabalud wood (WDE1311SHY). Position this bead at the center of the wire.

STEP 2:
From the hambabalud wood going to the left end of the necklace, string a whitewood bead (WD1306W), a coco bead (COS1403Y) and a whitewood bead.
STEP 3:
Thread a rondelle blocking bead (EXS1713SH-MOP).
STEP 4:
Repeat step two, step three and back to step two.
STEP 5:
String a hambabalud wood. Repeat step two.
STEP 6:
String a crimp bead (FMCRBD2S-144) and an open jump ring (FMRJ6S-144). Go back through the crimp bead and back through the whitewood just strung. Set aside.
STEP 7:
Cut a two 7in. pieces leather cord (BCRL15LBR-50M). And prepare a cord end cap (FMCE27S-144).

STEP 8:
On each end of each cord, apply a drop of hypo cement (TLGSHYPO01). Insert onto the cord end cap. Let it dry.
STEP 9:
Repeat step eight on the other end.
STEP 10:
Open the jump ring near the crimp bead and attach to the cord end cap. Close the jump ring. Attach the other cord end cap onto a five pieces jump ring.
STEP 11:
String a three pieces whitewood bead onto a head pin (SFPH025x15-100). Make the first half of the wrapped loop, attach to the last jump ring. Finish the wraps.
STEP 12:
To finish this project off, repeat step two up to step eleven, substituting the four pieces jump ring and the three pieces whitewood just strung with a lobster clasp (FMCLLXSMS-24). Trim off excess wire.

List of Materials:
3 pcs. WDE1311SHY yellow"hambabalud"wood beads
4 pcs. EXS1713SH-MOP MOP rondelle blocking beads
19 pcs. WD1306W round whitewood beads
8 pcs. COS1403Y yellow coco heishi beads
10 in. BC19-024BT-100 .024″ diameter beadalon bright 19 2 pcs. FMCRBD2S-144 silver crimp beads
8 pcs. FMRJ6S-144 open jump ring
4 pcs. FMCE27S-144 silver plated tube cord end caps
4 pcs. 7in. BCRL15LBR-50M light brown round leather cord
1 pc. FMCLLXSMS-24 silver plated clasp extra small
1 pc. SFPH025x15-100 silver filled head pins
1 tube TLGSHYPO01 g/s hypo cement