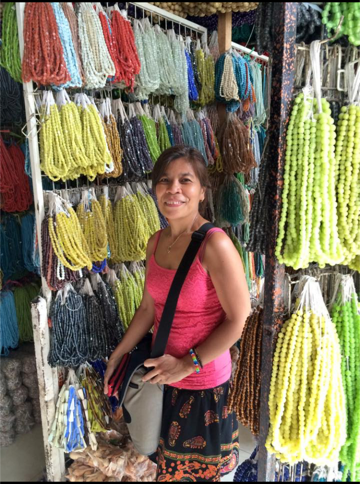 Beads and Pieces owner, Angie Spalding sourcing recycled
and lampwork beads in Bali, Indonesia.
We are a wholesale bead company specializing in providing a wide range of unique, high-quality and handcrafted beads for jewelry making and design. Our beads are imported directly from various countries including the Philippines, Indonesia, China, Bali and Thailand.
Beads and Pieces was created as a catalogue business in 1994, in Cupertino, California. In our early days, we imported natural beads from the Philippines, such as: shells, wood, horn, bone, stone and seeds. All were sourced and 
manufactured in the Philippines.  By 1998, Beads and Pieces opened its online store and in 2003, it became a limited liability company, Beads and Pieces, LLC.
The following year, we decided to expand our operations to its origin — the Islands of the Philippines. This was a great step towards growing our company while we continued to develop new products for our customers. In addition to product development, we employ many people to help us run our wholesale bead company in customer service, product purchasing, marketing and technology.
We specialized in natural material beads and accessories. Many pieces of our selection are crafted from indigenous materials, which are expertly transformed into beautiful jewelry beads. We are proud to offer very competitive prices 
along with our extensive collection of wholesale beads. We hope you will enjoy our products and discover your natural style.
We are always happy to help our customers.  Please contact Beads and Pieces if with any questions or concerns. We look forward to doing business with you.