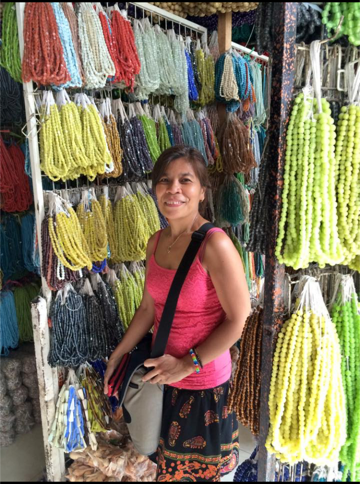 Beads and Pieces owner, Angie Spalding sourcing recycled
and lampwork beads in Bali, Indonesia.
We are a wholesale bead company specializing in providing a wide range of unique, high-quality and handcrafted beads for jewelry making and design. Our beads are imported directly from various countries including the Philippines, Indonesia, China, Bali and Thailand.
Beads and Pieces was created as a catalogue business in 1994, in Cupertino, California. In our early days, we imported natural beads from the Philippines, such as: shells, wood, horn, bone, stone and seeds. All were sourced and 
manufactured in the Philippines.  By 1998, Beads and Pieces opened its online store and in 2003, it became a limited liability company, Beads and Pieces, LLC.
The following year, we decided to expand our operations to its origin